While hoping to find some blogspiration (oh yeah, that's a thing now) I met a really cool artist named Liana who I knew immediately needed to be featured on my blog. You see, I like good artwork as much as anyone… But I love, LOVE, love geek inspired artwork.
Liana's artwork is beautiful, different and caters to an array of fandoms and universes. I poked around her personal blog and started getting acquainted with her and I'm excited to help you get to know her as well! I delivered to her a set of questions and she gave me great insight to her life and her artwork!
I see that you aren't from Canada – Where are you from originally?
That's a funny story, a lot of Canadians often look me straight in the eye and say "you're not from here!" and it kills me every time (Though I'm proud to say I've accidentally said "eh!" twice in the past week.) Originally, I was born and raised in a small town in Florida, called Melbourne. (who was just recently featured in Scott Snyder's American Vampire!) It's just your average town nestled right in-between NASA and all of the theme parks in Orlando.
Before your big move, what did you do "for a living"?
Before I moved up to the Greater Toronto Area about a year ago with my fiancé for relocation, I actually worked a marketing job for almost eight years. I moved up in the company, but before I left, I was often traveling the states recruiting students to apply for certifications for applied behavior analysis. I ran their website, I coordinated marketing pitches, I handled the social media and adwords… I was a jack of all trades for the office! I still keep in touch with everyone there, but it was a no brainer for me to agree with my fiancé that moving would be a great opportunity for me to continue marketing freelance and do my art full time.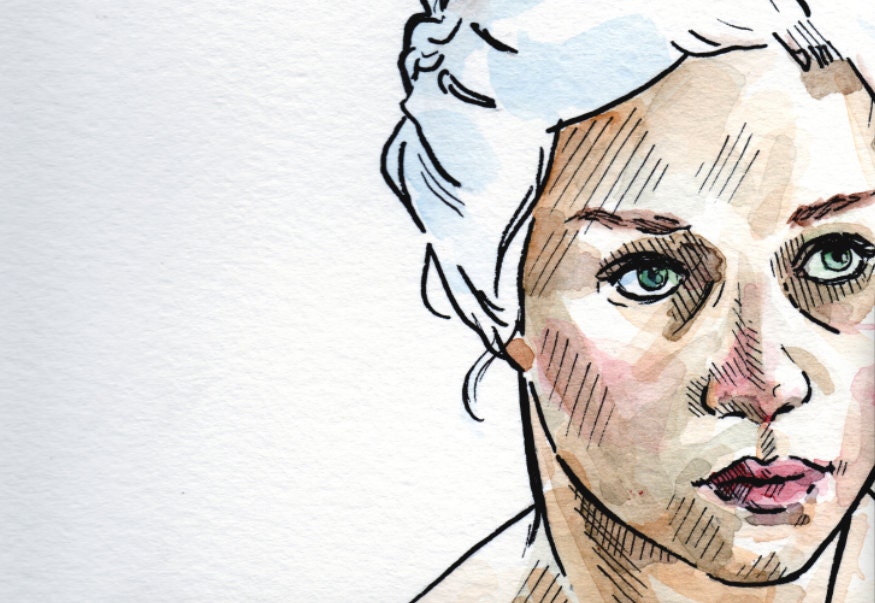 How long have your been painting? Has your style changed over time?
I guess I'm not really sure where and when I started painting. Does painting on myself with magic markers count? Just kidding! In high school, I took a couple art classes and eventually joined an AP college class, and I'd officially say, it started from there. Most of the time I taught myself, or had my grandfather's help (he's a professional, graduated from Mass College of Art and taught at some major schools in Arizona and Florida) which he'd actually tell you "YES!" my style has definitely changed over time.
I remember drawing anime doodles for my friends back in middle school and getting frustrated with actual anatomy during my switch in high school. Eventually in college learning life drawing and switching my major has made me do art alone and thus discover what I'd label my style now… I'd definitely have to say I've had some major influences.. Comic books and illustrators seem to be the biggest motivation for me to keep working directly with the style I love doing now. I hope I'll only just evolve from here and keep at it!
If you could only keep one piece of your artwork, what would you keep and why?
This is such a hard question! I love collecting art work (especially oil pieces, due to knowing how complicated they are to paint…) but it would definitely have to be this small, gold framed oil scribble portrait my grandfather did of himself. He painted it right after a surgery and from a very long painting hiatus… to me it has the signifier that tells me to keep going. Keep painting, keep drawing, no matter what obstacles I run into, literal or metaphorical.
When is the big day and how are wedding preparations coming along?
Oh man! Ha ha, when Mike and I first got engaged, I was planning in my head all of the progress blog posts I wanted to do, DIYs I wanted to post, etc. Little did I know how much work it would be! Blogging (consistently) is hard work!
We decided to get married on April 3rd, which is the day we met at an Arctic Monkeys concert in 2010. We're very appreciative to friends and family who aren't furious with us for interrupting their Easter weekend! We've run into a lot of crazy snafus (our original wedding venue closed the first of this year, one of my bridesmaids is moving out of country, things like that) but we aren't letting it slow us down! Luckily, I have all of you from the blogging community to resource! Tell me all of your wedding planning secrets!
Isn't she just… the cutest EVER!? In addition to the Daryl Dixon watercolor and ink drawing you see above, she has a variety of other paintings for sale – including completely custom personal portraits!
If you want something you don't see available in her Etsy shop, you can contact her and discuss the specifics of what you want. Even more awesome is that Liana is giving my readers a whopping 20% off of their order until the end of February when you use promo code KIMIWHO. Use it at checkout to get that incredibly generous discount.
Follow Along with Liana
Facebook | Twitter | Instagram | Pinterest | Society6
Request a Custom Order from Liana Today!
Want to see your blog, product, or shop featured on my blog? Find out how!