I'd like to think I did well and mostly accomplished November's Goals. Those that I didn't finish, I either started or decided not to do them for a reason. Here are last month's goals…
Clean up the apartment.

DONE.

 Okay so it needs it again. I've been sick so I can't seem to keep up with it. But it IS better than it was.
Christmas Decorations.

UM…

  I at least got the tree out and up. The cats won't leave it alone so I'm afraid to decorate it. But we WILL decorate it soon!
Blog Posts.

SORT OF?

 I'm not really happy about this. I blogged plenty I suppose but being sick really put a damper on my schedule.
Holiday Shopping.

FAIL.

 I have the same 2 gifts to purchase still. Oops.
Start acquiring Christmas movies.

FAIL.

 I haven't started yet but that's literally on my to-do list for today.
Pumpkin Pie from scratch.

FAIL.

 In all fairness, I have had the flu and I otherwise made a full Thanksgiving dinner that took me 6 hours to prepare. I decided that I was making macaroni & cheese and corn bread stuffing from scratch. I think it's fair that I didn't make pumpkin pie too.
New Goals
Decorate the Tree. Carrying this one over from November. It'll get done. Honest.
Holiday Shopping. Carrying this over from October and November. It will happen this pay check!
Acquire Christmas movies. I absolutely must do this.
#BLOGMas2014. I want to try to participate in this as much as possible. I see some prompts that I won't be able to fulfill for various reasons. Otherwise, it looks like fun and I want to stay on a schedule!
Festival of Lights. I haven't been to the one here in Charleston since I was 18 years old. Yes, 11 years ago! I really want to go and take pictures.
Wash All of the Clothes. We just got our washing machine in and I really want every item of clothing, bedding, towels, etc to be washed and put away.
Attend 1 Christmas Party. I never really have – not as an adult. I want to make this part of my life.
Take Boys to Vet. Um, yeah. I've kind of been a bad cat Mommy. The boys need to get their little boy parts cut off still. I need to make this happen this month.
What's on your to-do list this month? I don't feel like there's enough time. Yikes!
---
[gdlr_row][gdlr_column size="1/2″]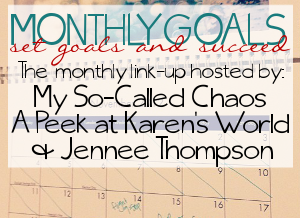 [/gdlr_column]
[gdlr_column size="1/2″]
What Is This?
Every month, Link Up and share your monthly goals with My So-Called Chaos, A Peek at Karen's World, & Jenee Thompson. Check out the goals of other bloggers and see how yours compare. Hold yourself accountable and maybe get a little something extra done.[/gdlr_column]
[/gdlr_row]