Last month, I wrote out my goals for the first time. To be honest, I'm not too unhappy with what was and wasn't accomplished except for the last bit. Here's my October Goals recap:
Buy New Work Shoes.  DONE! – I bought some really awesome Skechers brand slip-resistant work shoes. Now that they are broken in, they are amazing!
Design our Christmas Cards.  FAIL. – Although, I did take awesome pics of Bruce & Oliver for the fall.
Holiday Shopping.  FAIL. – But to be fair, those work shoes were expensive ($60 is expensive to me) and I only have 2 more gifts to purchase so… not a total fail I guess.
Apply for School.  FAIL. – I am extremely upset at myself for this. The deadline was October 31st and well, I didn't apply because I needed $250 for one class. Financial Aid doesn't cover the type of online certification I planned on and so I needed to cough up the money… up front. I was hoping we'd hit a sales goal at work that would earn me a bonus (which just so happened to be $250) but it didn't happen, so I won't be doing my classes… yet.
New Goals
Clean up the apartment. I haven't been doing the best job and I'm upset at myself for it. It needs a lot of organization work.
Christmas Decorations. Jeremy supposedly has a nice, fake Christmas tree in our storage. We need to dig it out, figure out if it's still good and what all we need in terms of decorating it. I'd like to get this done next week so I have a couple of paychecks with which to purchase Christmas stuff!
Blog Posts. I have some guest posts to write, posts related to giveaways, the holidays, etc. I have to use my days off to get them done.
Holiday Shopping. There's really only 2 gifts left to purchase. More may happen, but really only those 2 are needed. Come on… I can do this!
Start acquiring Christmas movies. I didn't plan ahead for Halloween and I ended up feeling sad that I didn't have a lineup of movies to get into the spirit. That absolutely cannot happen with Christmas or I will be devastated.
Make Soup. Seriously… I just purchased everything I need with which to make my favorite soup. I just have to do it!
Pumpkin Pie from scratch. Jeremy wants to do this with me and I'm actually pretty excited about it. We just have to find the time!
It's such a busy month. My work schedule is starting to get weird in order to accommodate what we'll need during the holidays and I'm already just sort of lazy and tired during my days off. I really, really hope I can get most if not all of that list done.
---
Want to participate?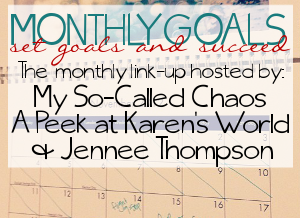 ---
What are your goals for this month? Getting ready for Christmas?